Blogs
ROMEO – afterwards impressions by Patryk Lakomiec
Learn more? Look here!
The ROMEO campaign ended some time ago and now it's time to say few words about that. I'm Patryk and I'm doing my PhD in Sweden, where I'm focused on methane fluxes from wetlands. For me this campaign was an opportunity to do measurements from different sources and with different range of concentration. It was a chance to meet with friends from MEMO2 and also meet new people from other research institutes.
The most exciting part of this campaign was a beginning. After a short meeting and introduction, all members started preparation. You could feel like in Santa Claus day but for nerds and in October. Boxes were everywhere. Everyone opened packages and set up an equipment. It was a hard work so joint lunch was mandatory. Pizza for everyone!!
When equipment had warmed up and everyone was full, more work had to be done. Groups started to run calibration gases on their devices. It was a very important task. Without this, measurements done by all groups would not have been comparable. Measuring standard gas, with known concentration of methane inside, allows to make common scale for all instruments.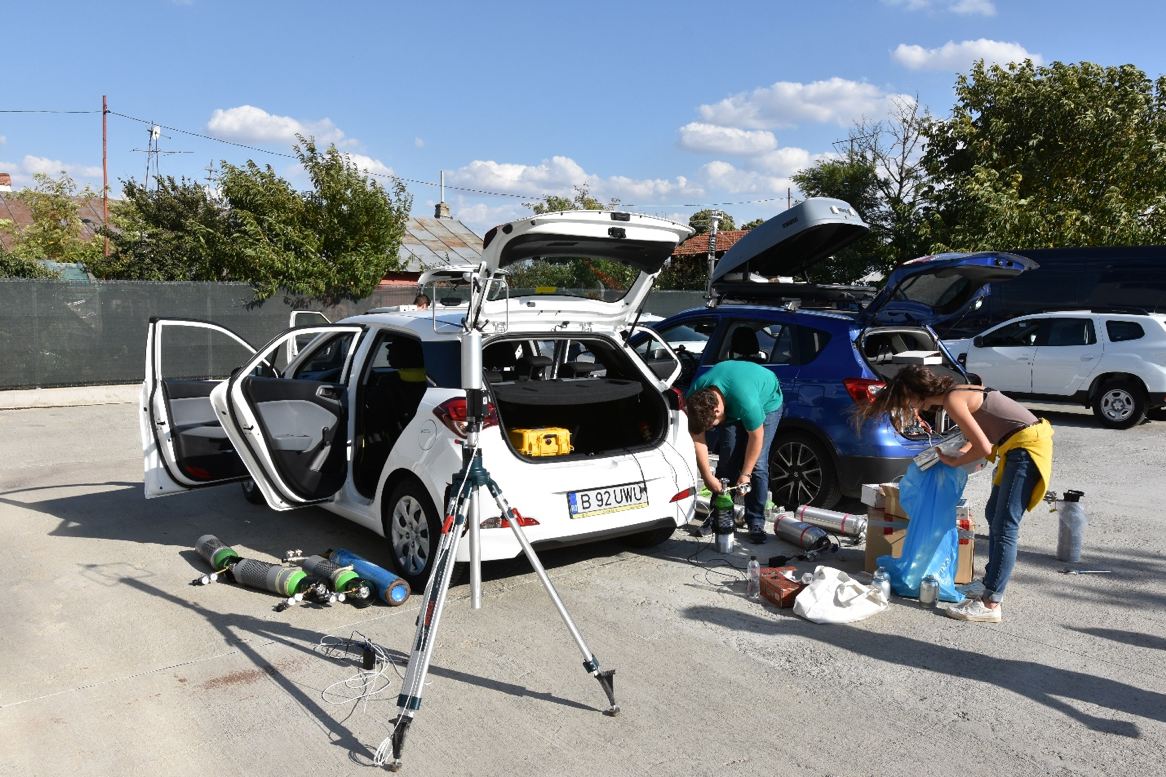 After the calibration and other test, close to the evening the first preliminary drive was done. During the next days we visited many sites like pumping wells or oil parks. Simultaneous measurements from one well were carried out by few teams. In the daily morning meetings work were divided among teams and during evening meetings updates were reported.
Of course the main goal of campaign was the estimation of methane emission from oil & gas sector in Romania. However, the social aspect of this campaign was a nice bonus. At the end of the first week joint dinner was served. It was a time for recharge batteries a little bit before the next days.
But the campaign was not only a time of unboxing and social events. It was mainly a time of hard work and constantly facing new obstacles. In Romania we faced mostly two problems which are described below.
Ground based mobile measurements is linked with spending time inside a car. Driving in Romania, especially in area close to oil wells was a challenging part of measurements. Most of those roads were gravel roads and not all of our cars had 4-wheel drive. Thanks to INCAS (National Institute for Aerospace Research Elie Carafoli), we had local drivers who were a strong support in this not-easy terrain. However, driving in this conditions sometimes gave unexpected appointments.
The second problem was connected to the atmospheric conditions. The methane emission quantification method used required a minimum of 2 m/s wind speed. In some days this was hard to achieve. However, all teams did their best to quantify as many sources as possible.
Besides of these two small problems it was great time. I gained new knowledge and experience. I met new people and working with them was a real pleasure. I can recommend everyone who have possibility to join a big campaign to use that opportunity. Hard work and a lot of satisfaction are condensed in short time.