Blogs
Piotr Korben – My story from 3 weeks of measruements in Poland
Blog written by Piotr Korben
The European Training Network MEMO2 (www.h2020-memo2.eu) is a project where 13 PhD students cooperate to identify and calculate methane emission from different methane sources. During the 3 years of my PhD I will visit our project partners in Utrecht, Paris and Poland for scientific secondments. My secondment in Poland was between 22nd of May and 10th of June 2018, where I participated to the CoMet campaign. Julia Wietzel from my group at University of Heidelberg participated as well. We were one of several research groups. There were also groups from Utrecht, Paris, Krakow, Groningen and Munich. As measurement technique I used a CRDS analyser Picarro G2201-I. With this instrument I could measure the methane concentration and the isotopic composition of methane, but also CO2 and water concentration. The setup is illustrated below.
CRDS analyser with all equipment (pumps, battery, tubes, tanks)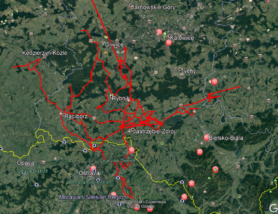 This campaign focused on the Silesia area. It is the biggest mining area in Poland, situated in the south-western part of Poland. Coalmines are strong methane sources, and because of that it was possible to measure methane concentration. The map shows the routes during measurements. During this campaign, it was possible to measure air from shafts but also to take direct samples (taking air samples to 1l plastic bags) and analyse it with higher precision. One part of this campaign was to support aircraft measurement carried out within CoMet. The aircraft team measured similar transect but also the vertical distribution, whereas the car teams measured horizontally at a 2 m height above ground. It was also possible to measure air emitted from mines in Czech republic and few other sources like landfills and cow farms. I visited the following shafts and measured CH4 plumes from them:
Pniowek
Borynia
Zofiowka
Jas-Mos
Brzeszcze

Silesia
Debiensko
Coal Mines in Czech Republic
Knurow
Gaz system – release test
Shaft Pniowek V and coal mine "Debiensko"
Power station near to Rybnik and shaft Knurow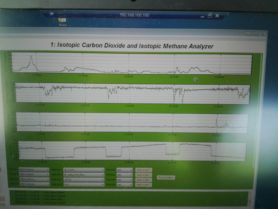 During mobile measurements I used a so called AirCore system for isotope analysis of CH4. It is an additional storage tube to the CRDS analyser and with this setup it is possible to repeat measurements of air from the last two minutes. This means, that as soon as I observed an elevated CH4 concentration, I used the stored air to measure the concentration again. By this, I could increase the precision of my results. The picture above shows an measurement example of using AirCore. When AirCore is on water concentration is increasing (fourth graph).
During this campaign I cooperated with other teams. It was interesting to see similar measurement techniques, but than using a drone (Groningen team). The Krakow team had the same measurements techniques but without AirCores system. Our colleagues from Munich used completely different instruments, so called Fourier-transform infrared spectroscopy–FTIR. For them it was necessary to have clear sky and sunny weather.
Munich car and drone team inside with measurement equipment.
Heidelberg and Krakow cars with inlet system and weather stations on the roofs. Release experiment in GAZ-SYSTEM
I made measurements during day but also three times during night to check how much methane is concentration is changing in this area during night. I tried to cover exactly the same roads to have temporal variations of methane concentration. Unfortunately sometimes I had problems with my analyser. Partly because of the weather as it was really hot and inside the car without climatic system it was impossible to make measurements, and partly because of the quality of roads. But after few minutes break and calibration process it was possible to continue measurements.
For me a campaign like that, but also all physics is connected with another people. I met there great people, ready for science or measurements but also for fun when it was time for that.
Measurements with drone team and sunrise after night measurements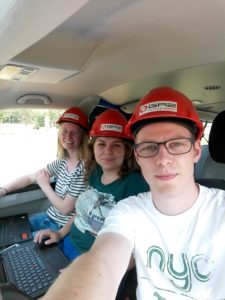 During this campaign I expected to learn about coalmines, shafts and methane emissions from this specially source. I planned to measure many shafts, but also other sources than coalmines. I did it. I visited 14 shafts, 1 landfill, 1 cow farm and 1 natural gas station. I collected 75 AirCores. Every day I used weather station and every day before and after measurements I made a calibration of the instrument. It was a great opportunity to work once again with CRDS analyser on such a big campaign, to get more experience in measurements and to be more independent in work and to meet another PhD students, supervisors, scientist and start cooperate with them.