Blogs
Sara Defratyka – MEMO2 at CoMet
Blog written by Sara Defratyka

MEMO2  PhD students increase their skills and knowledge
during the CoMet campaign in Silesia Region, Poland
The European Training Network MEMO2: MEthane goes MObile – MEasurements and MOdelling, is focused on identification and evaluation methane emissions. Better understanding of methane emission is one of the crucial elements in battle with global warming. As a mining region, the Silesia Region (mostly situated in a west-south Poland) is considered as one of the biggest European emission sources of CH4.
| | |
| --- | --- |
|   |   |
|  Pniówek coal mine (author: Malika Menoud) |  Borynia coal mine (author: Malika Menoud) |
Due to this, as part of CoMet, the German Aerospace Center (DLR), in collaboration with the AGH University, performed a measurement campaign in this region. Moreover, five MEMO2 PhD students from the AGH University in Poland, the Heidelberg University in Germany, LSCE in France, and Utrecht University in The Netherlands had the opportunity to participate in this project. Additionally, a drone team from the University of Groningen also took part in the CoMet campaign in Silesia Region. This extensive multi-team collaboration put efforts to measure atmospheric methane concentration by means of different instruments with different platforms: cars, drones, and aircrafts, at various spatial and temporal scales.
The campaign took place in the Upper Silesia Region in Poland, between 14.05.2018 and 12.06.2018. Measurements were mostly focused on mine shafts and observation of methane concentration close to these facilities. MEMO2  students were responsible for mobile measurements by using the cavity ring-down spectroscopy (CRDS) laser analyzer. This technique allowed to measure concentration around shafts fast and with high precision. Many coal mines were measured, for example Pniówek, Zofiówka, Borynia or Brzeszcze. Accessible infrastructure around Pniówek let for deeper analysis of the concentration plume from this shaft.
| | |
| --- | --- |
|   |   |
| Group of mobile car measurements with CRDS (author: Pawel Jagoda) | CRDS analyzer from Heidelberg University group (author: Sara Defratyka) |
| | |
| --- | --- |
|   |   |
| Map of Mobile Measurements – AGH University (author: Sara Defratyka) | Measurements while driving around shafts (author: Sara Defratyka) |
Moreover, MEMO2 students measured not only concentration, but also the isotopic composition of CH4 from mines. These measurements were conducted in two different ways. One relays on storage air in long line, called AirCore, and then directly measured by the CRDS laser analyzer. In a second way, air was sampled to the bags and afterwards measured in the laboratory by CRDS analyzer or isotope-ratio mass spectrometry (IRMS).
| | |
| --- | --- |
|   |   |
| Bag sampling directly from shaft (author: Pawel Jagoda) | IRMS from Utrecht University (author: Malika Menoud) |
What is also important, the concentration around shafts from ground level was also measured by DLR researchers by using Fourier-transform infrared spectroscopy (FTIR). Additionally, at fourth sites, stationary measurements were conducted by FTIR. Using both – CRDS and FTIR analyzers – which based on different measurements technics, allows to compare the concentrations measured during the campaign. At the same time measurements were also conducted by aircrafts. During the aircraft measurements the route of mobile measurements on ground level was correlated with measurements on sky level. These measurements, with consideration of the vertical profile of methane plume analyzed by drone, allow to broaden knowledge about the vertical behavior of methane concentration plume. Afterwards, this complex attitude will allow for estimations of CH4 emission from particular mine shafts.
| | |
| --- | --- |
|   |   |
| FTIR measurements in hotel Pustelnik (author: Sara Defratyka) | Raman LIDAR in hotel Pustelnik (author: Pawel Jagoda) |
Additionally, there were also night and early morning measurement of methane concentration in urban areas conducted. In this case, mobile measurements by using CRDS laser analyzer were conducted in fourth cities in central of Upper Silesian: Katowice, Chorzów, Bytom and Ruda Śląska. The timing of these cities' measurements allowed us to observe the influence of high of the boundary layer. To better understand the concentrations measured in cities, obtained results will be compared with vertical profiles of the atmosphere studied by LIDAR. This instrument measures the distance to the target using pulsed laser. Measurements of the return wavelengths and the time let create a picture of atmosphere. During the CoMet campaign "windy" LIDARs, based on the Doppler's effect, were used. During some time, there was also a Raman LIDAR from the University of Warsaw used, which is based on Raman's scattering.
| | |
| --- | --- |
|   |   |
| Coal mine in Chorzów city (author: Pawel Jagoda) | Boars met in Katowice city (author: Pawel Jagoda) |
| | |
| --- | --- |
|   |   |
| Sunrise observed during measurement (author: Sara Defratyka) | Night measurements in urban area (author: Sara Defratyka) |
Participation in the CoMet campaign gave the MEMO2 students the opportunity to gain knowledge about different instruments than they typically work with. The comparison of results obtained by CRDS analyzer, IRMS, FTIR, drones, and aircraft allows a better understanding of methane emission from mines. Comparisons between measured concentrations and data from LIDARs will give information about the influence of weather conditions and atmospheric profiles on measured concentrations. Additionally, students had also possibility to establish cooperations with researchers from other institutions. In the future, this can bear fruit in additional publication and new common projects.
| | |
| --- | --- |
|   |   |
| Few free moments | Relax after work |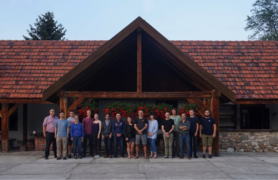 CoMet in Silesia Region, 14.05.2018 – 12.06.2018, team of ground measurements